In 2011, Jackson and Judy were featured
on the Science Channel show
Large, Dangerous Rocket Ships
in which
Lubin's AP Soda took Second Place in the Odd Rock Competition
Here's Jackson, living the TV star life. Photo by Sather Ranum: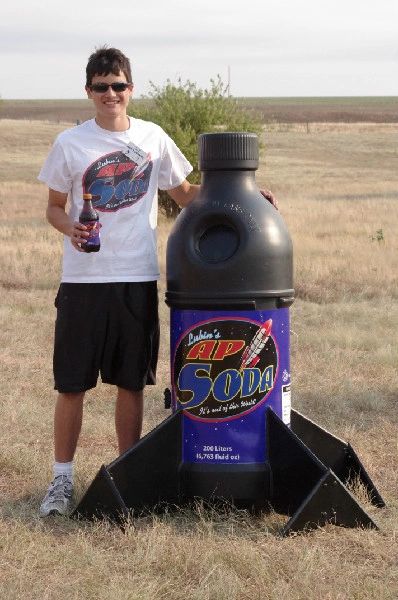 Lubin's AP Soda, our odd rock that began as a soda-bottle shaped recycling container, had a beautiful and perfect first launch on an M3400 White Thunder. The rocket went straight up despite high winds - a testament to Jackson's engineering skills - deployed perfectly and landed a stone's throw away from where we were watching. We cracked one winglet on landing, which was expected and easy to repair. The top of the booster portion of the bottle also got a bit dented on landing, but that's another easy fix. She'll be ready to go again at Midwest Power.
We received Second Place for our valiant efforts. First place went to a crowd-pleaser style of odd rock (a flaming Tiki hut that didn't really fly like a rocket, but looked really cool). We stand by our approach to use more engineering and less show to deliver an actual rocket (not just a stunt), and graciously accept our second place trophy.
JLRockets would like to thank our outstanding volunteer ground crew: Sather Ranum, Tim Lehr, Steve Lohr and, of course, Tom Lubin. JLRockets would also like to thank
Frank Nobile
for ground crew on the Ultimate Dark Star.
Because we were busy giving exaggerated responses for the TV crew, we have had to rely on the kindness of the rocket community for photos. Thanks much to Sather Ranum, Ray LaPanse and Neil McGilvray of Rockets Magazine. Get more photos of LDRS 30 at the
Rockets Magazine website
!
Photo by Neil McGilvray/Rockets Magazine: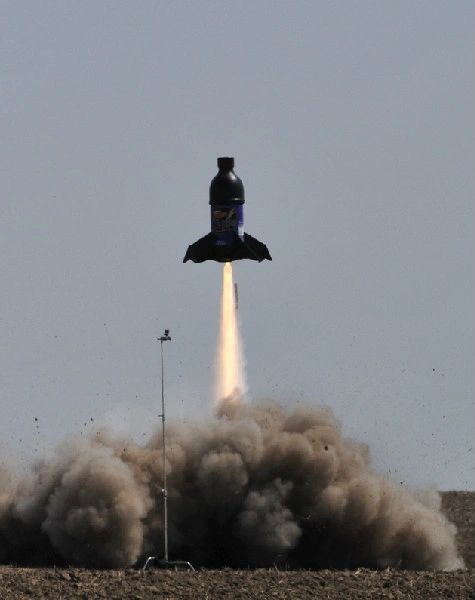 Photo by Neil McGilvray/Rockets Magazine:

Photo by Ray LaPanse:



The trophy!

Photo by Neil McGilvray/Rockets Magazine:




AP Soda was relaunched at Midwest Power on a sparky N motor!



Here's a video of AP Soda leaving the workshop out the window because it was too big to fit through the door.
We took this footage for the Science Channel production. The producers were very excited when we told them, at our first interview, that the rocket was going out the window. They made a huge deal over it. In the end they didn't even use the footage! Oh well, I gues that once they got to know us, they found that there was more to us than our window.




Click here for more info on Large Dangerous Rocket Ships on the Science Channel


How did we get ourselves into this mess?


Okay, if you saw the following on the street or at a park: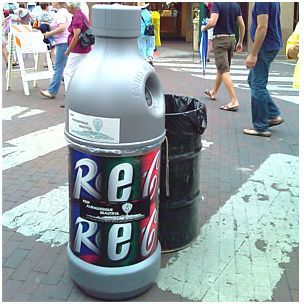 Would you say to yourself, "Hey, that would make a great rocket!" Me neither. But, Jackson has a different idea, and so do the mad scientists at WOOSH Rocketry.

Odd Rock [od rok] 1) a rocket made from materials that are not intended to be a rocket, typically materials that do not cooperate with the task of rocket building 2) the domain of the perpetually insane

Let me state emphatically that this project was not my idea. I cannot take credit for such genius (or delusion, whichever applies).

So, here's how Jackson and I got ourselves into this big mess. In the summer of 2010, Jackson and I joined the WOOSH email list. One of the first emails that crossed our in-box was a plea to join experienced rocketeers Sather Ranum, Marc Stevens and Bill Bertoldi and become the fourth in a minimum-four order of the recycling container. We jumped in. (By "we", I definitely mean Jackson. This is primarily his project.) Little did we know that Sather, Marc and Bill had been looking for a fourth for over three years! As soon as the bottle arrived, we realized why none of the other club members - some of whom have 20+ years of experience - took them up on the offer. If only we knew then how difficult odd rocks were!

Here's the bottle, begging to become a rocket.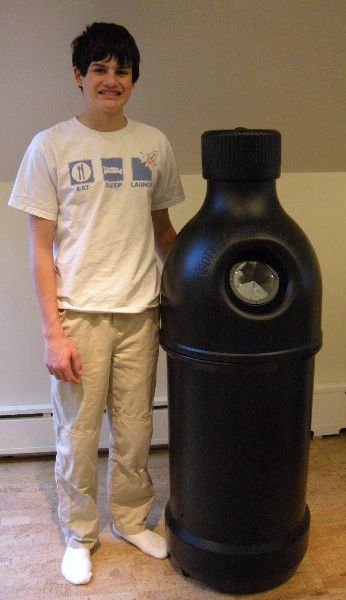 The bottle started out 5 feet tall and almost 2 feet in diameter. Alone, it weighed about 12 pounds. But there's a whole lot more that needed to go into it before it became a rocket. The finished rocket came in at 105 pounds, loaded. Attachment of fins, motor tube, etc were a major engineering challenge since the bottle is plastic and, therefore, will not accept any type glue or epoxy with enough reliability to handle the forces the rocket will endure at launch. To learn more about the building process:



OTHER MEDIA NEWS:
Jackson Publishes in Sport Rocketry!
Sport Rocketry is a national magazine, and the most widely distributed in the hobby. Click here, or on the thumbnail below to read Jackson's article about his Junior Level 1 Certification experience.